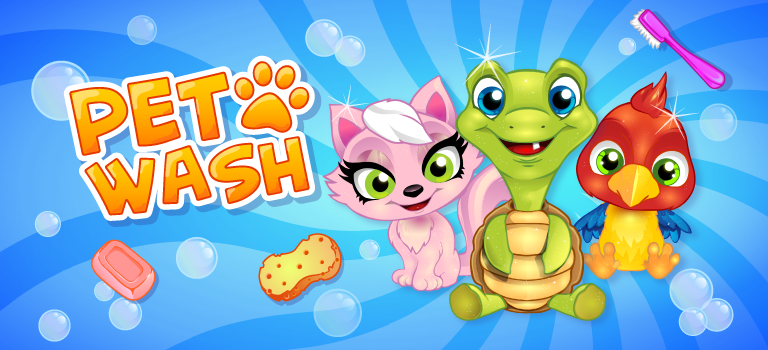 Pet Wash
Everyone wants to have his own little pet to cuddle and play with.
Meet and beautify 7 sweetest pets: fluffy cat, loyal dog, slow turtle, lively rabbit, crazy parrot, playful pony and cuddly panda. In this game, you can take care of baby animals and test whether they are made of the right stuff for this role!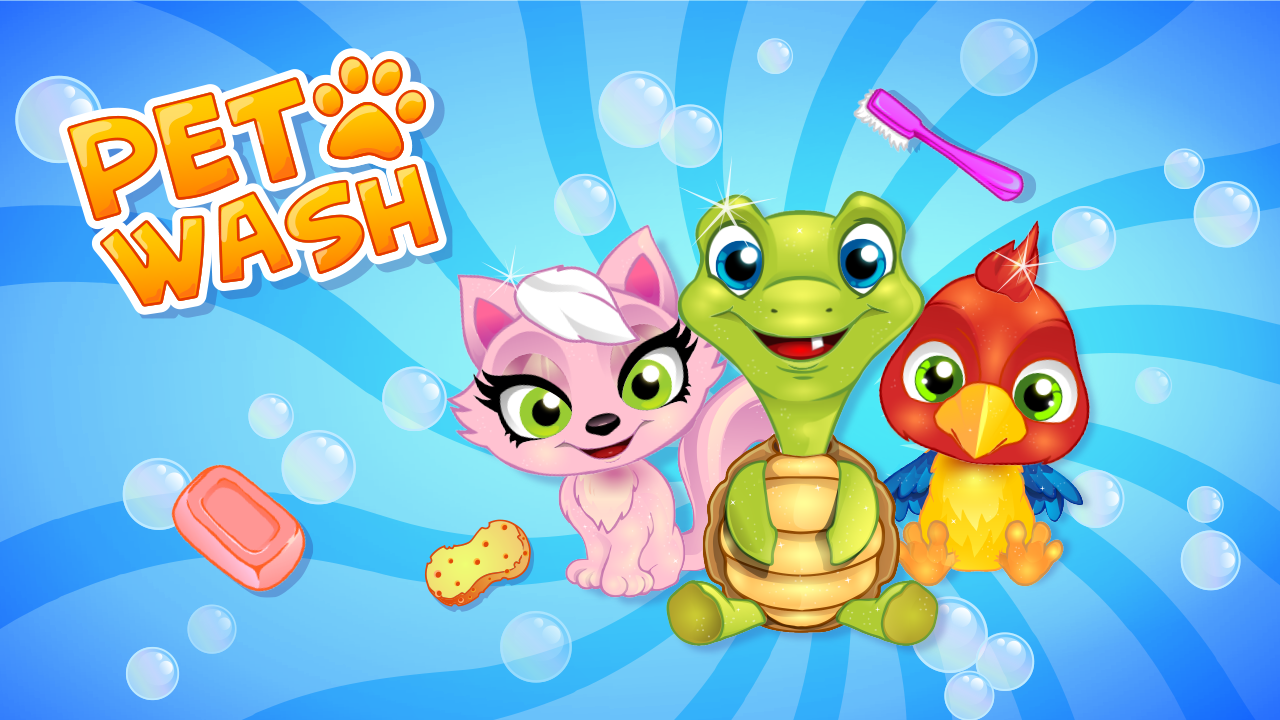 Little pets adore nature, forest and bushes, where they can play hide and seek and chase each other. Pets went for a ramble with their cute friends and now they are dirty and messy. Help them quickly with your beauty treatments.
At first, get rid of flies, wasps, bees, ticks or spiders. For perfect warm bathing, use some soap, a shower and a towel to clean up the dirty pets. Dry them and comb their hair or parrot's feathers. Some animals have their unique needs. Turtle has a problem with messy shell, pony with its horseshoe and parrot with special feathers. Construct turtle's shell and polish it to get a shiny look. Shoe a pony with nails and hammer. Shorten extra feathers with scissors, or long claws with a nail clipper. Also, all pets need help with tooth brushing, so clean their teeth and mouth that is full of different food scraps.
Apply some lotion on pet's body so it will look like scattered with glitter. For the final touch, perfume your lovely pet and choose from among various colorful accessories. You can combine a butterfly, necklaces, a tie, a bow, hats and glasses.
Before you take care of another animal, you can play brain teasing shuffle cups mini game. Pay attention to where the ball is and keep your head!
Features:
7 lovely pets (dog, cat, pony, turtle, parrot, rabbit, panda)
bright HD illustrations
animal sound effects
easy gameplay
different mini games
different accessories to combine
This game is free to play but certain in-game items and features, also some of those mentioned in game description, may require payment via in-app purchases which cost real money. Please check your device settings for more detailed options regarding in-app purchases. The game contains advertising for Bubadu's products or some third parties which will redirect users to our or third-party site or app.
Read more