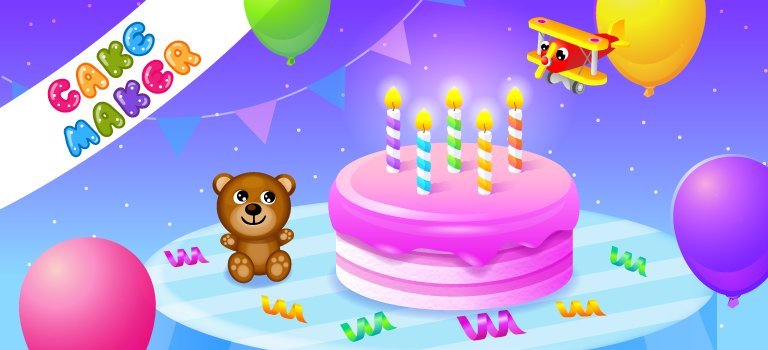 Cake Maker
Have fun making a cake, blow the candles and make a wish.
Have fun making a cake, blow the candles and make a wish, then eat the cake. Everybody has a sweet tooth, especially when a yummy piece of cake is on the plate.
Cake Maker allows you to create a cake for any occasion. If you want to make a cake for someone's birthday, your friend's wedding, or maybe to surprise your valentine sweetheart or just to brighten someone's day, then Cake Maker is the app for you.
You can choose from numerous cake shapes with different fillings, create one or two storey cakes with different dressings, decorate it with figures for various occasions, add marzipan decorations, fresh fruits, candy and cream. Sprinkle it with crumbs, put on some candles and add little toys to make it even more attractive.
Now, let's the party begin - watch and launch fireworks, blow out the candles and have a taste of the cake you've just created.
Game is appropriate for toddlers, children and even adults who like cooking, making and serving or just eating cakes.
Features:
beautiful high quality HD graphics
intuitive, easy to use interface
infinite gameplay with unlimited combinations
many different cake shapes with dressings for each of two storeys
lots of toppings, candies, fruits, creams, candles, crumbs, marzipan
figures and sound making toys for decoration
slide puzzle minigame
This game is free to play but certain in-game items and features, also some of those mentioned in game description, may require payment via in-app purchases which cost real money. Please check your device settings for more detailed options regarding in-app purchases. The game contains advertising for Bubadu's products or some third parties which will redirect users to our or third-party site or app.
Read more